On June 2nd, 2021, I responded to a request from my countryman Pedro Martin, who was shooting a film in Berlin and was looking for extras. It is interesting that in German the word for "extra" is "Komparse." It sounds almost like a "comparsa" in Portuguese, a "henchman." And that's how I felt doing this, a henchman, because I had never done something like this before.
Basically, my 'role' was to sit in the audience during a book launch scene in a bookstore (trying not to get in the way). There were a couple of escape scenes involving the extras, plus some (unsuccessful) attempts to get us to say something. All this was cut in the final edit.
It took us the whole day to record this one scene, a substantial crew was mobilized, but in the film you can only see the bookstore for a few seconds. My 'character', for exemplo: I only appear with my back to the camera and very briefly. I recognized myself just because I was wearing a beret. Check it out: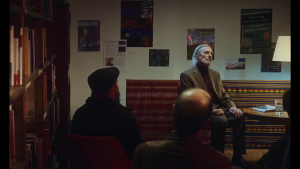 But this was enough for me to appear in the credits of the movie…
… and to be nominated for an Oscar as best extra.
Okay, I exaggerated. But the mention in the credits is deserved, indeed, because it was a whole day with a lot of sweat. A lot of sweat, meant literally, because you see me in this outfit here…
… and you can't imagine how hot it was that day. Yes, this was just a costume, because on the day of the recording we were approaching the summer months in Europe.
It was great to participate in the recording and see how the production of a film works in practice. Here comes a picture of the set in the beautiful Andenbuch bookstore, a cultural space dedicated to Latin American literature, located in the even more beautiful Bergmannkiez neighborhood in Berlin:
The film was launched a few days ago. The title is "Ein Jahr, zwei Winter" (One Year, Two Winters). It tells the story of Mara, a character who fled the military dictatorship in her country (it is not said, but it is Brazil) in the 1970s and went to live in the asylum in West Berlin. In the main narrative, we follow Mara in the 1990s, being confronted with traumas from her past.
The film was exhibited on the German channel rbb last Sunday, November 27, and is available in the media library until February 26, 2023. Those in Europe can watch it here.
Unfortunately, the channel is restricted by geolocation, so those in Brazil need to install a VPN. Or wait for a Portuguese version (the original has some audios in Portuguese with German subtitles, but the rest of the film is in German).
Below, the film's main credits and the promotional image on rbb channel.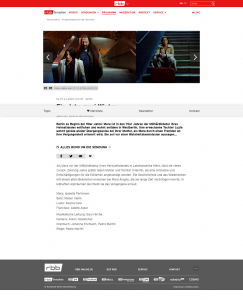 Title: "Ein Jahr, zwei Winter"
Country: Germany, 2021
Running time: 25 minutes
Music Direction: Gary Hirche
Camera: Anton Yaremchuk
Screenplay: Johanna Enzmann, Pedro Martin
Direction: Pedro Martin
Ps: I'll update this post when a trailer or a video in English comes out.